Tobian Language School offers a wide range of English classes. If you need to learn English for school, business or because you are traveling: Tobian Language School has an option to suit your needs. With our comprehensive and international group of teachers we can help you with all kinds of lessons.

We offer both private and group lessons in small groups of 2-3 students. Our teachers use Skype/Zoom/Google Meet and each lesson is 60 minutes.
Many of our teachers are bi- or even trilingual so if you prefer some explanation in your native language, we can get you the right teacher.
Usually we work with packages of 20 lessons. Before you commit, we will arrange an intro chat with the teacher where you can make personalised arrangements.

Our classes are classified by 3 different courses:
General English
Business English
Exam preparation courses
What's Included In The English Language Courses?
We offer English courses in all different levels from A1 to C2 according to the Common European Framework of Reference (CEFR). The Common European Framework of Reference for Languages (CEFR) is an international standard for describing language ability. It describes language ability on a six-point scale, from A1 for beginners, up to C2 for those who have mastered a language.

Our English course includes personal support from a private teacher during your journey to improve your English
Our goal is to broaden your world by enhancing your English skills
At Tobian Language School each student is a unique individual
You will have unlimited access to study materials during the course
Study at your own pace with topics of your interests
Benefits of our English Language Courses?
English is the official language of 53 countries and 400 million people around the world speak English as their first language. Additionally, English is the most widely spoken language in the world with nearly 2 billion speakers. In a globalizing world where companies and universities are becoming more international, English, the language of science, aviation, computers, diplomacy, and tourism is a crucial expertise.

Furthermore, speaking English gives you access to a world of entertainment. Many of the world's top films, books and music are published and produced in English. Therefore, by learning English you will have access to a great wealth of entertainment and will be able to have a greater cultural understanding.

In addition, English is the language of the internet. An estimated 565 million people use the internet every day, and an estimated 52 percent of the world's most visited websites are displayed in the English language. Learning English is important as it gives you access to over half the content on the internet. Knowing how to read English will allow you access to billions of pages of information which may not be otherwise available!

Employment is another reason why you should learn the language. English remains the single most important language for conducting business. If you're looking for a good job, it is likely that speaking English will greatly improve your chances for employment. Many large companies around the world require that their employees speak English. In some cases, these companies are requiring their workers to only use English. English is also an official working language for many international organizations such as the United Nations, European Union, NATO and the World Bank.

After all, it is even estimated that by 2050 half of the world will speak it at some level!

Join millions of students worldwide and come across English learning online at the Tobian Language School!
Types Of Courses We Offer
If you need to improve some or many parts of your English, our experienced professional (native) speakers can assist you. Lessons can have a personalised focus on grammar, speaking, pronunciation, listening comprehension or writing skills. Together we can concentrate on areas that are most important to you.
If you want to prosper in business then having proper communication skills are crucial. If you've found it hard to communicate in English with clients or colleagues, we can help you out by improving your business communication skills.
Tobian Language School offers specialised lessons to prepare students who need to pass language proficiency exams including IELTS, TOEFL and Cambridge. This course is ideal for people who need to quickly pass IELTS, PTE or TOEFL for their visa, job or university entry.
Meet Our English Language Courses Teachers
Specialist in: Pronunciation
Specialist in: English writing
Specialist in: Grammar training
Specialist in: Vocabulary training
Specialist in: Grammar training
Specialist in: Conversation lessons
Specialist in: Business English
Specialist in: English for Children
Specialist in: Exam preparation
Specialist in: Exam preparation
From: United Arab Emirates
Specialist in: Exam preparation
Specialist in: English writing
All Of Our Language Courses Offer These Elements
Important Note:

Private lessons
With our extensive team of excellent teachers, we are always able to offer private lessons for every language and level

Group lessons
The possibility of group lessons is dependent on students having the same language and level
Group lessons
Learning groups of 2 - 3 people
€
12,50

This price is based on a package of 20 lessons
High-Quality Study Materials

Final Exam and Certification
Private Lessons
1-on-1 focused learning
€
20

This price is based on a package of 20 lessons
High-Quality Study Materials

Final Exam and Certification
FAQs About English Language Courses
Latest Reviews From Students
Enrique
Hello everyone! If you are interested in learning a new language in a dinamic and easy way I highly recommend you to do it at Tobian Language School. After all the lessons with my amazing teacher Ester I can only say good things about my experience with them in terms of teaching, flexibility to adapt at each other's schedule and good communication with all the team. It has been a very nice experience with you guys! Thank you very much for helping me to achieve my goals with English!!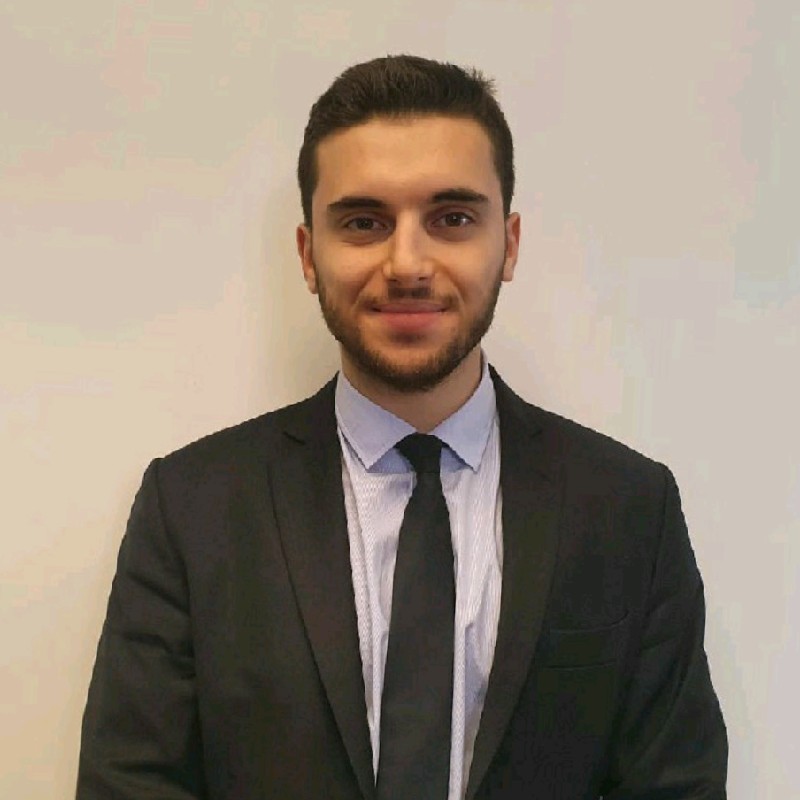 Gabriele
I have appreciated my first experience as a student at Tobian Language School, as I have been provided a very good and young teacher who is hugely contributing to improve my English. That it is why I have already recommended this language school to some friends of mine. Furthermore, I have decided to take another package of 20 English classes, as I think I have tremendous room to keep improving my English level.
Gerwin
I receive lessons through Tobian Language School to improve my English speaking skills. I notice that a lot of energy is put into the preparation of the lessons and a lot of attention is paid to my personal development and learning goals. Due to the flexibility and the high quality of the teachers, I would definitely recommend taking Tobian Language School!
The Tobian Language School has used industry recognised methods and personal experience to provide you with what we consider the most effective way to learn English based on your needs. By combining the advantages of private lessons, improvements in technology and using native speaking professors improving your English language skills can be fun, engaging and truly rewarding. We want all our students to succeed in their courses and we are happy to assist and guide you on your language discovery journey.